Hey Blogger, long time no post! Life has been pretty hectic lately - I had some bad stuff happen and my boyfriend and I celebrated our twelve year anniversary - so I just haven't had the time (or mental fortitude) to take photos and make a proper post... and oh! The manicures I have done in my absence! They have been glorious! Yet I haven't shared them. Eh, what can you do? Well, enough with the sentence fragments, on to the good stuff!
Sally Hansen Magical in Mystical Mandarin, artificial light




Mystical Mandarin is a medium pink linear holo polish from the discontinued Magical line. It has a very watery formula and is a bit of a streaky nightmare. I'd wager a bet that if I had Nfu Oh Aqua Base, it'd be less difficult to work with as it's formula reminds me a lot of Nfu Oh holographic polishes. Aside from being a little tricky to apply, this is easily a one coat polish as long as you get it right the first time, which is doable with some practice. Why it is called Mystical Mandarin is beyond me as it is neither orange nor invokes any thoughts of China. Oh well, it's a gorgeous polish anyways :)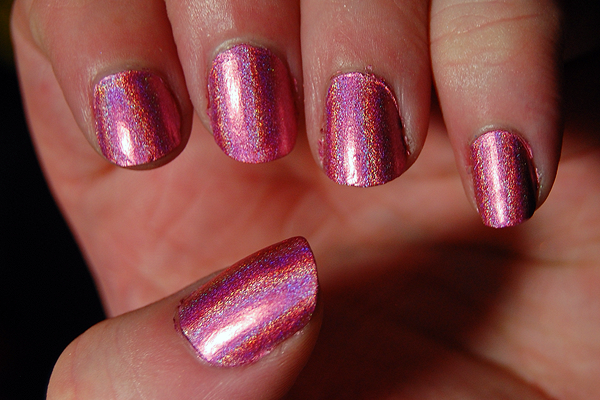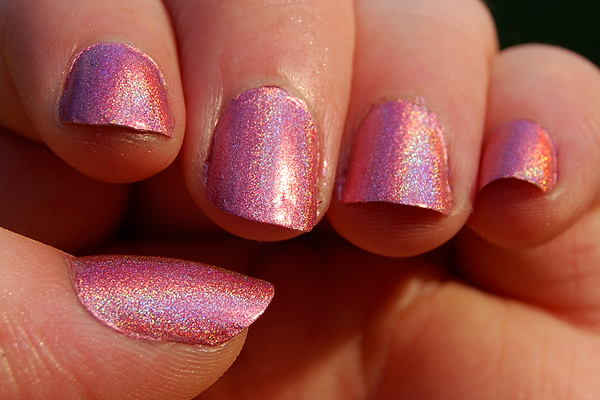 Natural light
Next up I have that EOTD I've been promising. It's nothing spectacular (wish I would have remembered to photograph my anniversary look!), but I needed an excuse to play around with at least some of the MAC
Blogger's Obsession
goodies I got in the mail yesterday!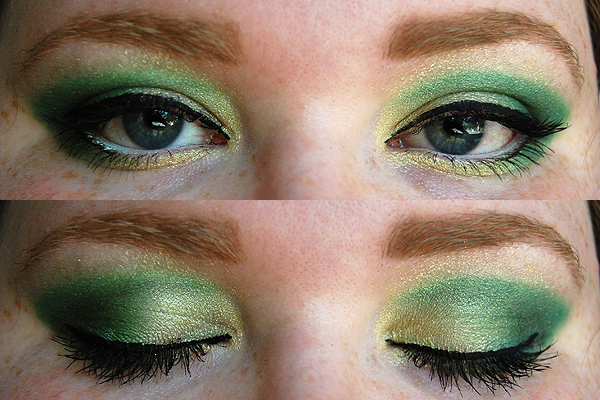 Eyelid, from inner to outer: (all MAC unless otherwise noted) Chilled On Ice paint pot (used as base, also on brow bone), Gorgeous Gold e/s, Springtime Skipper e/s, Wondergrass e/s, Hocus Pocus e/s (crease), Jealousy Wakes e/s, topped with Reflects Antique Gold glitter.
Other: Fascinating e/l on waterline, NYC Jet Black liquid liner, False Lashes mascara, Lingering eyebrow pencil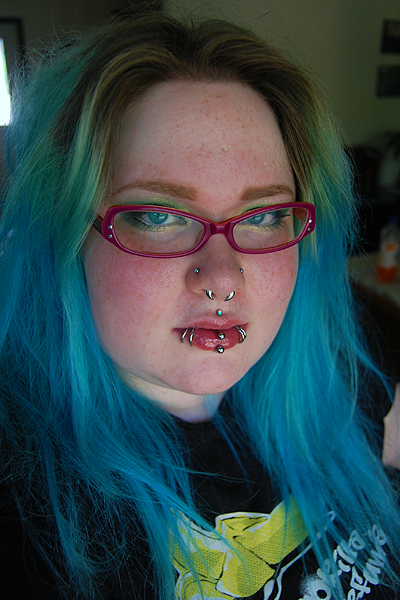 Because I'm having a hurr durr kinda day, I totally forgot to take a full face photo sans glasses, you get the idea though. Since I've finally made a make up post, and to make my tags as helpful as possible, I've gone back and added the prefix eyes: or nails: to each color. I may or may not add a lips: tag eventually, but as it stands now, I suck at photographing my lips!