Oh hi guys! Long time no update! I've been uber busy with work and quarter four videogame releases (heh) that I've had no time to even think about doing my nails, for shame! But here I am... and with a new feature for you!

Muahahahahaha! Yessssssss, the 13 Days of Nailoween starts today and will run through Halloween. I will be uploading a new Halloween/spooky manicure each day! Hooray!
Today I'd like to share with you a design I saw come across my blogroll but can't for the life of me find now. With that said, if you know whose manicure I took inspiration from for this design (or if you are that person), please let me know so I can give due credit! So, without further adieu, feast your eyes upon...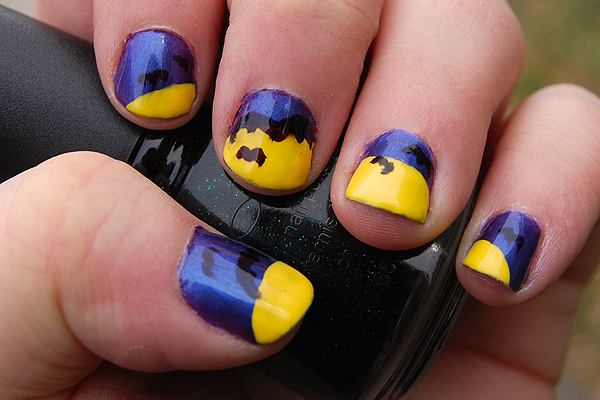 Bat Moon Rising!
Nevermind the completely unrelated bottle of polish there, I totally took these photos outside my car before I hopped in and sped to work, I accidentally grabbed the wrong bottle to take pics with, so I worked with it :D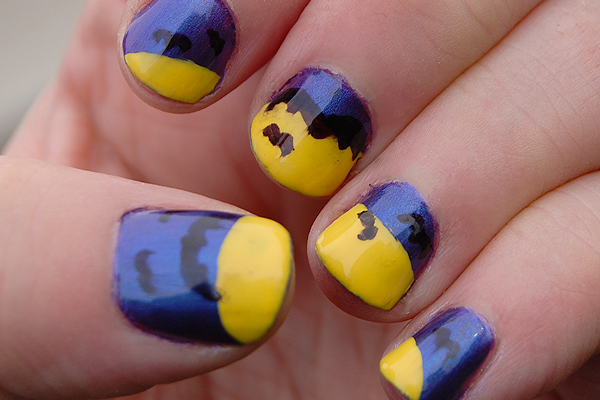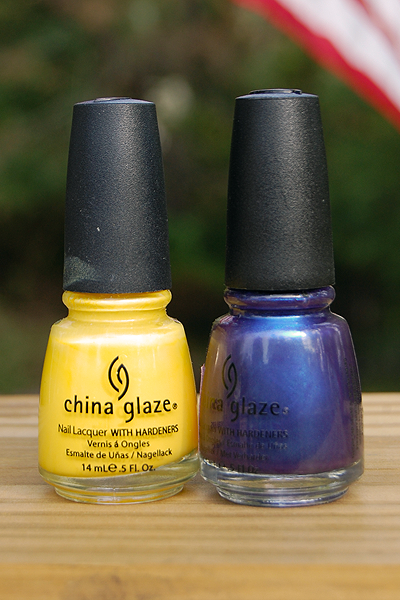 For this manicure I used two coats of China Glaze Tempest as a base, China Glaze Happy Go Lucky for the moon and I just doodled the bats on with Sharpie because it was late and I was tired. They smudged a little while I was asleep because I didn't think they'd need a top coat, but apparently they did, lol. This manicure is far from perfect, but I'm happy with it regardless :)
You might notice I change up my layout to match this mani! Keep an eye out for other Halloween manicure inspired layouts for the entirety of this feature as I will be changing it often! Thanks so much to all of you who've stuck around through my absence. I lost a few followers, but what can ya do! As always, thanks for looking!