Hey y'all :D I have some epic nail mail to share with you today, but first let me show you what I'm wearing!
My good friend Jenny is currently prancing around Europe, and while she's gone, she's been having her nail mail sent to me to babysit. She's been kind enough to let me fondle everything that has come in as well as try a couple of things out, such as these two polishes. For this manicure I painted my thumb, middle finger and pinky with two coats of China Glaze Cha Cha Cha, then I applied two coats of OPI Simply Smashing on all nails. I'm pretty sure Cha Cha Cha and Simply Smashing were made for each other. The last two photos were taken in shade, the rest were taken in full sun.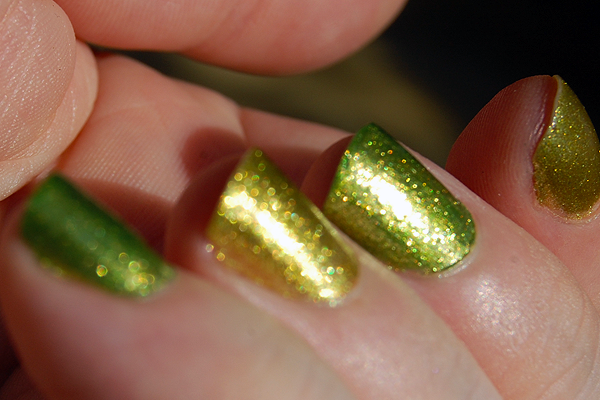 sexy out of focus photo is sexy!
Pretty delicious huh? Well, you haven't seen anything yet! Hit the jump to see Jenny's omgepic haul! Remember, all photos can be embiggened ;)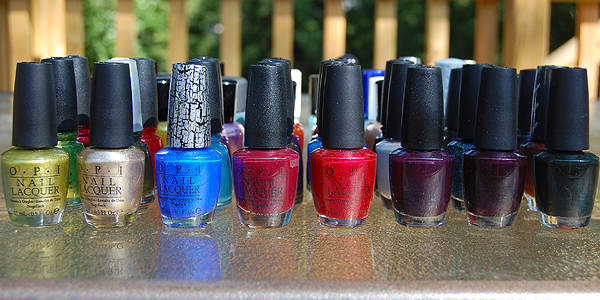 doesn't look like much...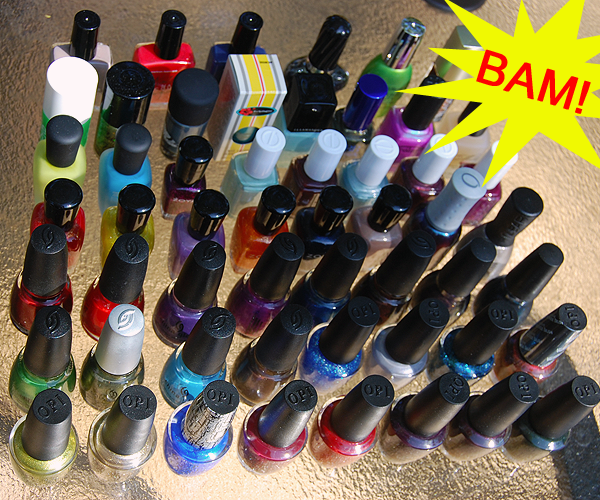 OH WAIT.
Let's break this bad boy down, shall we?
L to R: OPI Merry Holly-Days!, Wine Me & Dine Me, Mrs. O'Leary's BBQ, Lincoln Park At Midnight, Eiffel For This Color, "Sheer" Your Toys!
L to R: OPI Glitzerland, Simply Smashing, Here Today Aragon Tomorrow, Blue Shatter, Absolutely Alice, Last Friday Night
L to R: China Glaze Red-Curl-Grl, Ravishing, Dahling, X, Grape Juice, Senorita Bonita
L to R: China Glaze Prize Winning Mare, Peace On Earth, Cha Cha Cha, Blue Iguana, Caribbean Blue
L to R: Zoya Kimmy, OC Cooler, Manhattan Mixer, Mitzi, Pheobe
L to R: Zoya Indigo, Zara, Astra (mini), Pasha
L to R: Essie Heart My JR Jewels, It's Genius, Bahama Mama, Mint Candy Apple, Barbados Blue
L to R: American Apparel Poppy, Mount Royal, Mouse
L to R: Color Club Milky White, Ultra Violet, BB Couture for Men Grenade, Illamasqua Nudge, LASplash Crimson Tide
L to R: ORLY Royal Velvet, Sinful Colors Morph Streak, See You Soon, Nubar Impulsive Silver, Borghese Nero Magico
L to R: Cult Nails Always Winning, Models Own Lime Light, MAC Blue India, Ocean Dip
Whew! That was a lot of polish! ... but this isn't the only package I've received on Jenny's behalf, she also hit up Beauty Encounter...
L to R: OPI Ruble for Your Thoughts, Jade is the New Black, Mermaid's Tears, Planks A Lot, Jessica Bear In Mind Bear Hug, I Am Strong (Not Pictured - Deborah Lippmann I Know What Boys Like)
and Zoya...
L to R: Zoya Loredana, Marina, Pinta
and Barielle!
Bottom to top, L to R: Barielle Elle's Spell, Gelt Me to the Party, Soul-er Powered, Lemondrops, Polished Princess, Positive ZEN-ergy, Swizzle Stick, Snow Day, Falling Star, Slate of Affairs, Jess' Champagne Toast, Hidden Hideaway, Coalest Day of the Year, Buddha-ful, Unraveled Rust, Misbehaving Mistress, Passion Pirouette