I picked up Ruby Kisses Bold and the Beautiful a while ago hoping it might satisfy my lemming for OPI Sapphire in the Snow.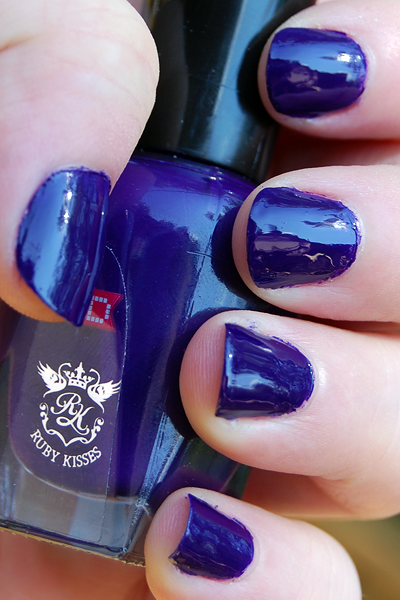 It's not quiet the same color, Bold and the Beautiful is a bit more red based than Sapphire in the Snow, but it's still a gorgeous purple cream. It also has an amazing shine to it, I didn't use a top coat in any of these photos so you could see for yourself. Please excuse the messy (lack of) clean up, I was in a rush to get ready for work.
Because, as you know, I suck at wearing just one nail polish, I decided to layer a Love & Beauty polish I hadn't tried yet which is just labelled as blue/multi.
Blue/multi is a sheer cornflower blue polish with a pink/copper duochrome. In the bottle it reminds me a bit of China Glaze Blue w/o You, but it's not nearly as awesome. This is a polish that really comes alive when layered over something else. Well, see for yourself: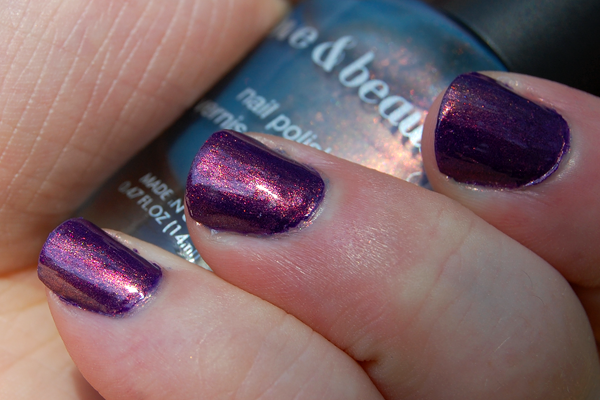 What my photos don't show is the way this flashes red, which looks a lot like a deeper, vampier version of
China Glaze Cowboy Up
. Drool worthy brain image right there, huh?