I know a lot of my followers are aware of the
Polish-aholics Anonymous
group on Facebook (hi ladies!), but for those who aren't, every Monday we have a different manicure challenge. This week I decided to take up the challenge and do a sponge manicure. I know it's not technically Monday anymore, but look at all the fucks I give!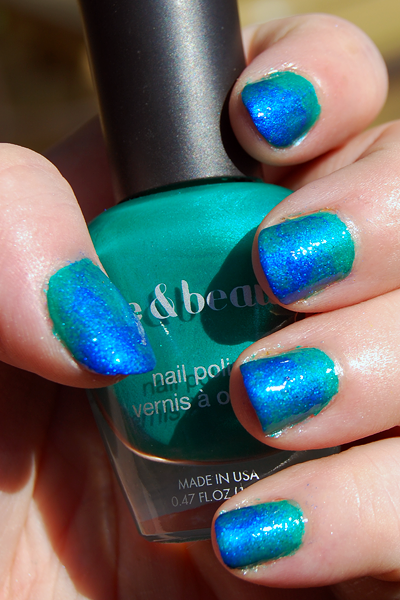 I need to tell you that I am not at all happy with the photos I took for this manicure. The colors aren't as true to life as I'd like and since I shot them around 2pm, the sun was just too much and everything is just blown out. I'm sorry guys :\
For this manicure I used put down two coats of Love & Beauty Jade then sponged China Glaze Frostbite from tips down in an uneven manner. I finished it off with some randomly sponged Sinful Colors Pearl Harbor (which didn't even show up in my photos :|).
I had some inspiration behind this one, a recently acquired pair of plugs which I absolutely love:
neat, huh?
I'm going to try to start participating in the Monday challenge more often because it was pretty fun. I'd like to take this time to apologize about my lack of updates (again) as I am without my laptop (and have been for the past two weeks) as it was, as the computer tech put it, trying to set me on fire. Hopefully I'll have it back soon and will be able to post more regularly. In the meantime, I have some photos of random manicures I've done recently loaded up and ready to go :) Thanks for looking!