Okay, so I can't take it anymore, I really want to post a NOTD. I suck pretty bad at describing polishes and I'm basically lost when it comes to categorizing finishes, so I apologize in advance. Hell, if you looked at my polish spreadsheet you'd notice I kinda gave up a quarter of the way in and everything became a glitter XD Anyways...
I was out running around the other day just to get out of the house, so I popped into several beauty supply stores. While I was at Beauty Brands, I noticed an entire display of a single polish, naturally I had to take a look at it. What I found was the Beauty Brands exclusive OPI shade, Teeny Weeny Pink Bikini. I couldn't decide if I had anything too similar to it, so I left it there. After checking my stash, I decided to head back today and pick it up. I'm glad I did!

Teeny Weeny Pink Bikini is a hot pink polish with fuchsia and pink glitter. Like most OPI shades, it's highly pigmented and has a smooth formula.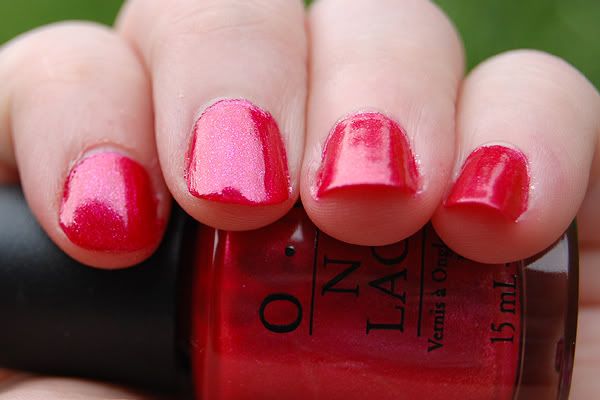 two coats, no top coat
I'm a little obsessed with gradients right now, so I sponged on some China Glaze Blue Sparrow and Frostbite, which turned out really nice.
I also picked up Essie Matte About You while I was at Beauty Brands, and I decided later in the day that I might as well try that out too.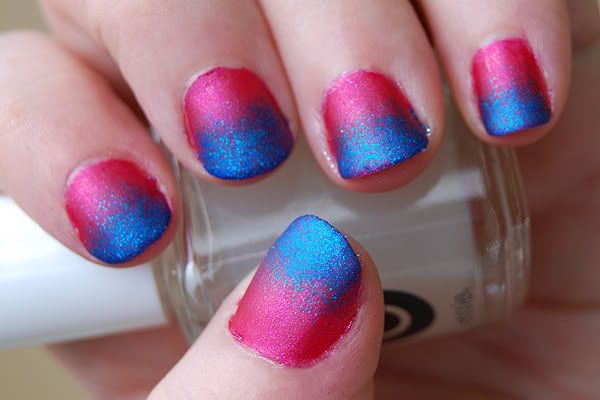 I'm really pleased with the end result... well, aside from the fact that my nails are jacked and I ran out of q-tips and couldn't clean up my mani! Haha, oh well!