I've been meaning to post this NOTD since Friday, but every day I do something to jack up my nails or I run out of daylight and can't take photos. I've reapplied this same manicure everyday since Friday, I love it that much and have wanted to keep it looking fresh. Now, I still haven't gotten the hang of photographing my nails, so I apologize yet again. I'm a bit of a perfectionist and it actually irks me to no end that my photos aren't coming out how I want them to. Oh well, I'll figure it out eventually! Alright, enough yappin', on to the pics!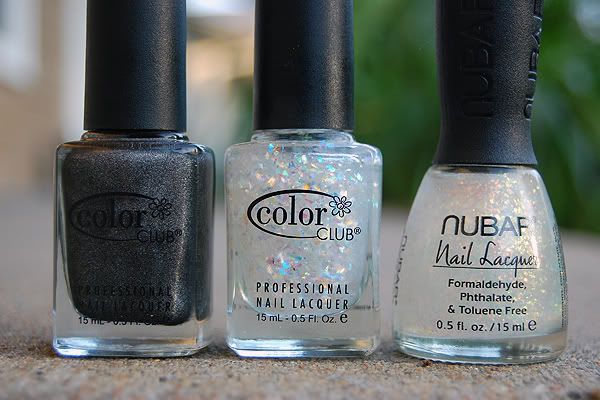 So here's what I'm working with! Color Club Revvvolution, Covered in Diamonds and Nubar 2010.
Color Club Revvvolution is black polish loaded with holographic glitter. It creates a beautiful rainbow effect on the nail when light hits it. It's probably my favorite polish in my collection at this moment... that says a lot!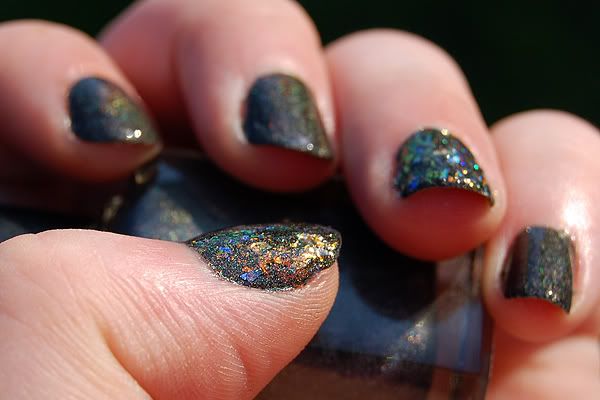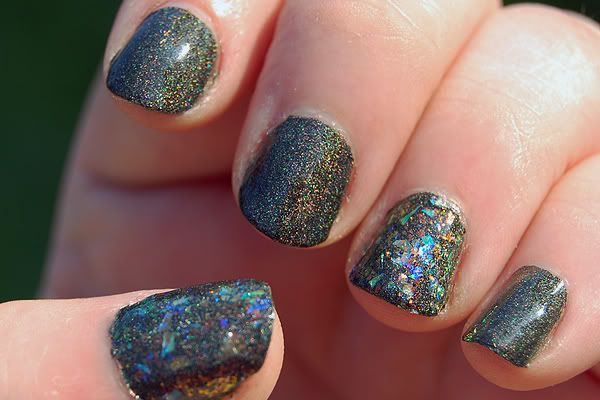 You can see Color Club Covered in Diamonds here trapped under a layer of Nubar 2010. Both Covered in Diamonds and 2010 are iridescent flakie polishes, but they couldn't be more different. Covered in Diamonds is a rainbow iridescent flakie polish in a clear base, it's basically the nail polish equivalent of iridescent cellophane. While 2010 is also a flakie polish in a clear base, it has an overall iridescence where has CiD is piece by piece... if that makes any sense. 2010 is very similar to the discontinued Sally Hansen Hidden Treasure that goes for way more money than it's worth on EvilBay. It reminds me of glowing embers. Unlike many flakie polishes, 2010 is very smooth to apply and leaves no bumps or upward jutting flakes.